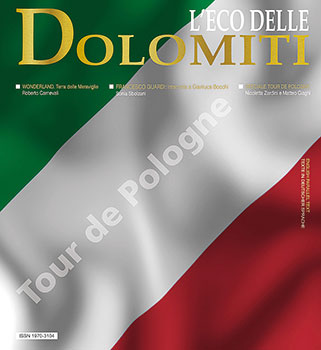 WONDERLAND - Terra delle meraviglie
Roberto Carnevali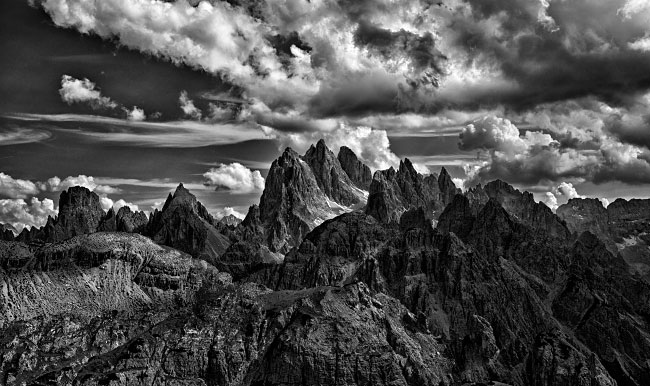 WONDERLAND – Terra delle Meraviglie" does not aim to be a simple series of photographs documenting mountains in all their beauty. The research goes much further than that and its main objective is to show the mountain as a privileged place where Man meets with creation, the Earth that is his Mother and that offers him a home.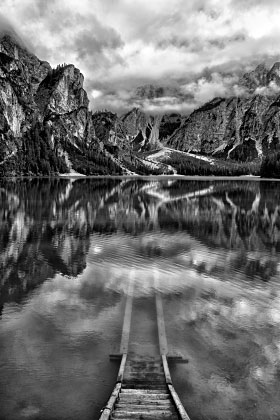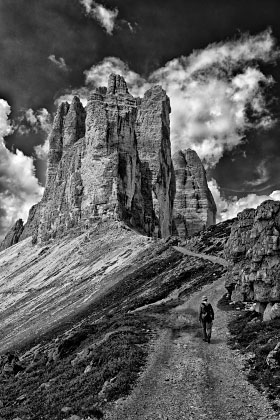 This encounter creates the sense of wonder in Man and leads him to contemplate the mountain in its true essence. It is a personal meeting which occurs in silence and which requires time and a desire to take part with an open mind, but which gives Man a superior awareness of himself.
This is why the pictures are a series of visions in black and white, which survey and exalt the very essence of these places. The absence of colour provides the right sense of timelessness and immutability. In this way, the mountains rise to their role of cathedrals made of rock: and Man is a pilgrim, an explorer who delves deep into this magic dimension.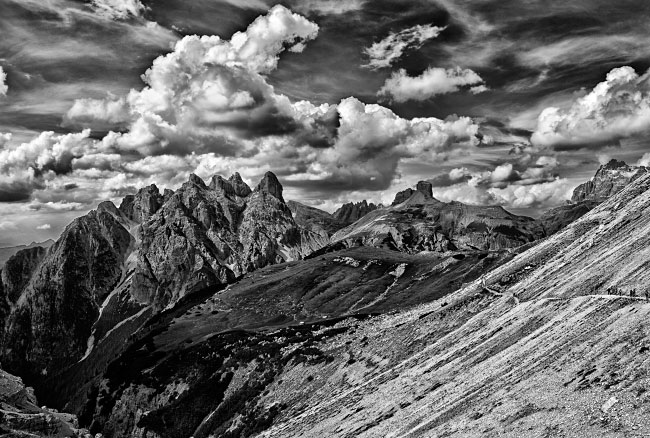 Although the research of these places and photographic vantage points lasted years, the images were only created in 2012. This was a conscious decision aimed at allowing the pictures to be taken under the same conditions and with the best possible quality.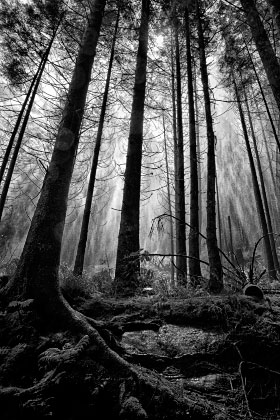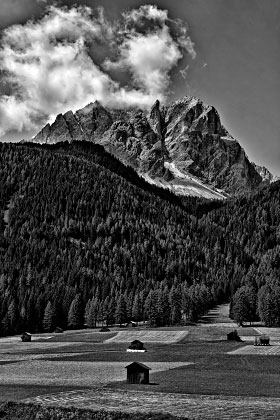 "WONDERLAND – Terra delle Meraviglie" has now become a travelling photographic exhibition which will be on display at a number of venues over the next two years.
CiternaFotografia 2013: International Festival of Photography Palazzo Prosperi/Vitelli a Citerna (PG). Exhibition open: 27 April to 9 June 2013.
Museo del Turismo dell'Alta Pusteria: Exhibition in Villabassa (BZ) in the rooms of the "Haus Wassermann", at the Alta Pusteria museum centre.
Exhibition open: 12 July to 31 August 2013.