STORY OF A NATURAL CURIOSITY
In the Trentino region in Italy there exists a lake with crystal clear water that has been the home of a natural wonder which, until 1964, fascinated scientists and visitors from around the world.
This is Lake Tovel, known as the "Red Lake" on account of the distinctive red tinge the water has at certain times of the day.
This mirror-like lake is set in the fabulous landscape of a luxuriant forest of silver fir, Norway spruce, larch and an undergrowth of mosses, lichens, mountain ferns, blueberry, mountain pine and juniper.
Situated in the Adamello Brenta Nature Reserve, it covers an area of 618 square kilometres and includes the Adamello-Presanella mountain range to the west and the whole Brenta range to the east.
The zone is a basin teeming with natural treasures of inestimable value including bears, chamois, roe deer, red deer, marmots, foxes, squirrels and eagles.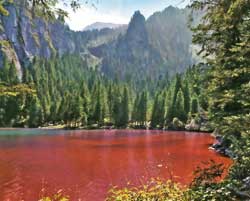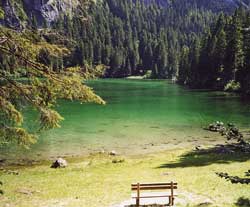 DOCTOR CLIMA, THE MILLION EURO BIOLOGIST
Here, in December 2001, the strip cartoon story "Gary e la Meraviglia Rossa (Gary and the Red Enigma)" was created. The plot unfolds in this magical setting, in a mixture of real facts and imaginary events. It really did happen: that year, the Autonomous Province of Trento launched an important research project to look into why the lake had failed to turn red. The project involved the Fondo Unico per la Ricerca, which has a million euro to spend on scientific research.
Now there is just a short step from the real world into the imaginary.
A brilliant but dishonest biologist answering to the mysterious name Doctor Clima ("Doctor Climate") seizes this opportunity and enacts a diabolical plan to pocket the million euro award. He plans to change the flow of underground water so that the legendary lake gets its old colour back.
But Raph, the unshakeable and efficient park ranger, aided by our merry heroes Gary and Spike, dressed as unsuspecting tourists, scuttle Doctor Clima's plans with a duel on Lake Tovel. This wakes up the beautiful queen of the Lake, Tresenga, at the head of an army of...char fish.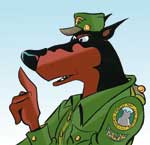 A CURIOUS FACT
This adventure was published around the time that the Euro came into circulation. In fact, the characters refer to the Euro throughout the story.
As often happens, what Fulber Creazioni publishes is "unique", given that nothing like it has ever been produced in the region.
The Red enigma has attracted so much attention that it has been reprinted four times and has been promoted by the Adamello Brenta Nature Reserve, the Municipality of Tuenno as part of the "Life Tovel" project, the 50th City of Trento International Mountain Exploration Film Festival. A special colour edition has also been purchased by Postertrentino, the magazine of the Autonomous Province of Trento.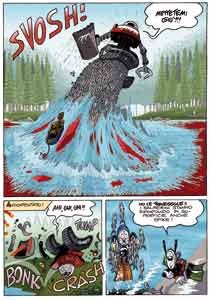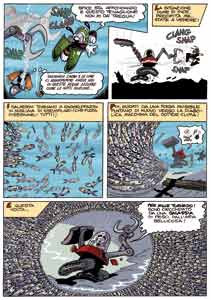 Fulvio Bernardini - Fulber Creazioni Trento
Via San Vito, 145 Cognola 38100 Trento- Italia
Tel. e Fax 0461 980303 ¬ cell. 348 2617560
E-mail: trentopolis@fulber.it- sito web: www.fulber.it