Long distance swimming is a great limitless passion…
David Meca interviewed by Matteo Ciaghi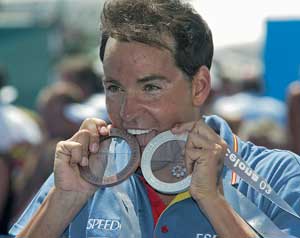 Who is David Meca?
He is a self made athlete, a fighter and an optimist, whose life is full of small and great goals in and out of the water to push him forward.
What does it mean to you having been the World Champion several times?
It was my dream. When I was three years old I was forced to swim that's how I started. I had physical health problems and the doctors recommended I start swimming as therapy. I immediately started to compete. At eight years old I started to train very early in the morning and in the afternoon. When I was 13 I won my first Spanish Junior Championship. I started to enjoy swimming, win competitions and everything changed. What started as an obligation later became a profession and my life after that moment.
What do you most like about long distance swimming?
Have the feeling you can swim unaided through an aquatic medium, whichever that may be, is an incredible feeling. Long distance allows you to establish a profound relationship with the sea.
What would you say is the greatness of an athlete?
Always keep the values of sport alive, perseverance, sacrifice and the spirit of surpassing oneself…
The Greek term athlete means fight: So does being an athlete mean you have to surpass yourself and the stopwatch on and everyday basis?
It's a constant fight, based on consistence and persevering…That's what life is, a constant challenge.
How many hours do you train everyday now?
About an average of eight hours a day, seven days a week, except when we have a competition coming up then we train everyday.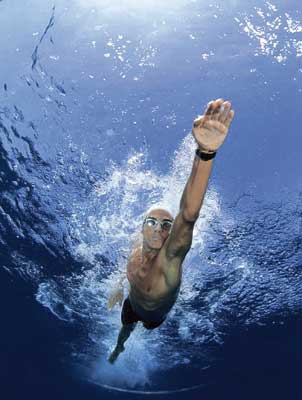 What do you think about during all those hours that you spend swimming?
Sometimes I get absorbed in my own thoughts, at other times I don't have all that much time to think as I am following my team's instructions... Thinking about all the people who support me unconditionally makes me feel strong and able to carry on in spite of the difficulties along the way.
What would you say are the greatest highs you have experienced in the water?
I have lived in a very intense way each one of the 28 World Cups. To win a medal for your country is an amazing satisfaction. We have had some really very intense moments, I especially remember the enormous challenge I had when I crossed from the Iberian Peninsula to the Balearic Islands. Apart from the great distance, the strong tides affected me tremendously when I was physically worn out, and the Sant Antoni port entrance canal was plagued with medusas. It was a dream come true…
Do you think our will can sometimes be stronger than our chances?
One must practice with one's will on a daily basis. Mental strength is as important as the physical condition and capacity. That is why the mind has to be trained as well.
What are your next goals?
To improve my record in official championships and triumph again for my country... I also want to achieve a world record in crossing the Gibraltar Straits three consecutive times before summer.
How do you mix your exhaustion from swimming with dramatic art?
Swimming is the axis of my life. Swimming gave me the opportunity to qualify as I was awarded a grant by the result I obtained in the USA Open in 1993... I have done several jobs in television and film. I feel very comfortable in front of the cameras, it is an amazing profession.
What are your dreams for the future?
To carry on with the same enthusiasm in everything I do … and of course to carry on connected to the world of sport.
How do you experience the water, as an element in complicity or one you have to overcome?
In complicity, although I deeply respect it. "El mar", or "la mar" as I prefer to call her (as Rafael Alberti the poet does) has given me everything. Apart from being a great allie it also hides unpredictable and unforeseeable surprises.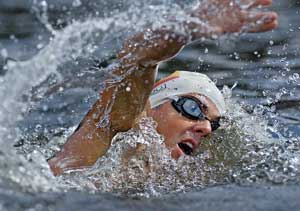 Have you ever been frightened?
Lots of times, but it's a feeling you have to train and learn how to control. Especially on my crossings when night falls, you feel tremendously defenceless and your sense of solitude magnifies in the middle of the sea.
What are the qualities one needs to have in order to swim at your level? What is best: to look for the exact stroke that harmonizes swimming or pure might?
It is important to master resistance techniques, and learn to control your moves, breathing and aerobic training. Mental preparation is also important for swimmers especially long distance ones.
Swimming is…
Touch the heavens with your hands…from the water of course
Who do you admire most among the Italian champions?
The swimmer Massimiliano Rosolino is without a doubt an outstanding sportsman who has achieved great triumphs.
Which victory has given you greatest satisfaction?
Each and every one of them are special. I remember with great emotion the World Championship in Hawaii in the year 2000 and I became the first swimmer to win four medals in a world championship. The year 2005 was also very special for my sporting career, as we won the Gold Medal in the 25km test, in a record time at the World Championships in Montreal.